Back to News
New Durham University scholarships thanks to Scott Logic gift
4 November 2019
Durham University launched two new scholarship programmes today, designed to support students from under-privileged backgrounds to study Computer Science and Mathematical Sciences. The scholarship programmes have been made possible thanks to a donation of £150,000 to Durham University by Scott Logic.
The gift was recognised through the naming of the 'Scott Logic Lecture Theatre' in a new Mathematical Sciences and Computer Science building which will open in 2020. The building will have state-of-the-art facilities to support ground-breaking research, as well as the university's first ever 'enterprise hub', dedicated to student innovation and stimulating student-led enterprise activity.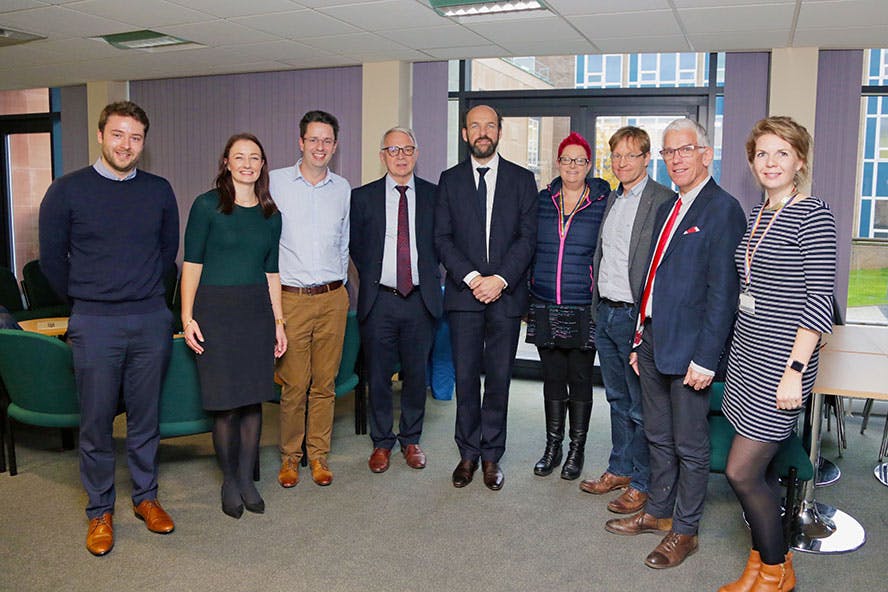 Two new scholarship programmes
The scholarship programmes are designed to help talented students from under-privileged backgrounds to overcome barriers and fulfil their potential:
Through the Durham Inspired Scholarship programme, the Computer Science Department will encourage more students from the North East to study at Durham University
Through the Masters Scholarships, the Mathematical Sciences Department will attract international talent to the region from developing countries to pursue advanced study at the university
Gary Scott, Founder and Managing Director of Scott Logic and a Durham alumnus, has maintained strong links with the university. Of the new lecture theatre, he commented, "I know from my own personal experience of studying at Durham the lasting impact it has had and the doors it has opened. I believe that opportunity should exist for all students, regardless of their background.
"I am enormously proud that this lecture theatre will be named after Scott Logic. I hope that through this, students will be inspired to find out more about the opportunities at Scott Logic and to stay in the North East to build a successful career."
You can find out more about the scholarship programmes and our ongoing support for Durham University in this video:
Attracting and retaining talent in the North East from all backgrounds
​Scott Logic takes its role in supporting the skills pipeline in the North East very seriously, aiming to attract and retain the best tech talent.
We sit on Durham's Computer Science External Advisory Board and work closely with the university and others in the North East to promote close alignment between their curricula and the needs of the industry.
We also engage with students through lectures and interactive workshops, and by sponsoring university societies including those supporting women in tech. We offer paid summer internships (six at our Newcastle HQ in 2019) and we recruit students from Durham and other local universities onto our best-in-class Graduate Programme (18 at our Newcastle HQ in 2019), interviewing candidates on campus when more convenient.

We at Scott Logic believe that social mobility is one of the biggest issues facing Britain today, and so to complement our support for Durham and other universities in the North East, we have also invested in a charity designed to support the untapped potential of students in the region going through secondary education. Seed investment from Scott Logic contributed to the establishment of the Altitude Foundation, a charity that will help under-privileged young people in the North East to pursue their passion for technology by providing the finances, social capital, opportunities and supportive relationships needed to prepare for and succeed in tertiary education.
Scott Logic continues to be one of the fastest-growing companies in the North East, and with all these initiatives in place, we intend to go on attracting and retaining talent in the region by helping to make it one of the best areas in the country to study, live and work.
Photography © Durham University