ADLINK: A simpler way to connect
Building better, together
ADLINK supply data connectivity solutions, tools and professional services. Their products enable connectivity between cloud services, enterprise applications, mobile devices, and embedded systems.
Creating an intuitive and focused process
ADLINK have built a reputation for developing solutions for the Internet of Things (IoT). Their technology has enabled companies to gather valuable data from a growing range of devices, in sectors from healthcare to transport, smart energy and financial services.
When they released Vortex Edge Connect, they wanted a wide range of companies to take advantage of the product, even with limited technical knowledge. Vortex Edge Connect enables businesses to link IoT devices with their operational systems, helping them to improve processes and knowledge.
Scott Logic is helping ADLINK to improve the usability of our products, enabling our world-class solutions to be deployed with greater ease and efficiency by our customers.
Steve Cammish, VP Engineering, ADLINK
What do your users need?
As experienced builders of advanced IoT systems, ADLINK knew how to create effective and robust products. Bringing in Scott Logic helped them to consider what users wanted, and how to design a set-up process that got users started.
Configuring products such as Vortex Edge Connect often required knowledge of technologies such as SSH, XML and XSD.
Through workshops and collaborative design, Scott Logic's user experience designers worked with the company, encouraging them to consider the best process for setting up features, as well as what assistance might be required at each stage.
The project brought together experts in hardware and user experience, working collaboratively to produce a process which helps users to achieve their goals.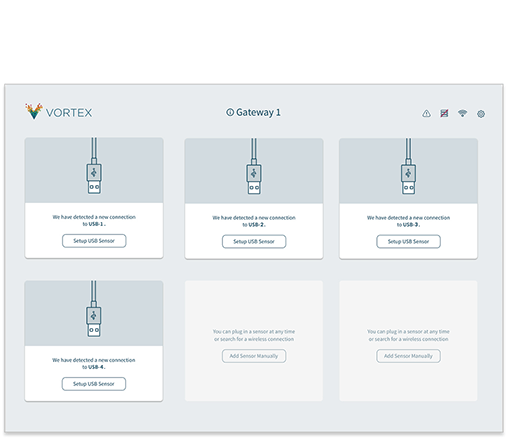 Building better, together
Once the best approach was agreed, Scott Logic's development team set to work – using its experience of modern, agile web development to implement the ideas. The client was able to view progress, and to provide feedback while the build was ongoing.
The product drew on Scott Logic's HTML5 expertise. It offered users the option to reduce set-up time, and also included more options for advanced customers.
The result was a system with an intuitive interface that was less time-consuming and intimidating for newer users.
Delivered by Scott Logic
UX workshops to consider both the best processes for setting up features, and also how to help users progress through stages
Collaborative, iterative design
Agile web development using HTML5