Back to News
Positive impact of open source leadership revealed in FINOS-led report
13 December 2022
The adoption of open source in the financial services industry is on the rise, largely led by organisations with Open Source Program Offices (OSPOs). Such organisations are more than twice as likely to encourage open source consumption and nearly three times as likely to encourage open source contribution.
This is a key finding of the FINOS 2022 State of Open Source in Financial Services survey report, published on 8 December in New York at the Open Source Strategy Forum.
Scott Logic is a FINOS Silver Member and worked in partnership with FINOS, GitHub, Linux Foundation Research and Red Hat to shape, conduct and analyse the survey. There were nearly 250 responses to the quantitative survey and these were complemented by qualitative research via interviews with a sample of respondents.
The results show that there has been a 16% increase in the prevalence of OSPOs within financial services organisations (44% in 2021 vs 51% in 2022). Having an OSPO or visible leader has a significant positive impact on employees' perception that their organisations are leaders in open source.
Consumption of open source software is growing, with 48% of respondents working at organisations where open source consumption is encouraged, almost doubling the value from 2021.
Contribution is also encouraged more than it was: 38% of respondents reported an increase in time their organisations allocated for open source contributions. However, the financial services industry is still behind others when it comes to contribution, as was revealed in another study Scott Logic helped to lead: the World of Open Source: Europe Spotlight 2022 survey. That study found that 30% of financial services organisations in Europe contributed to open source, compared to 61% in IT, 58% in science and 48% in telecoms.
Scott Logic CTO Colin Eberhardt said, "We were excited by the prospect of repeating the research work we undertook last year, and are happy to report that we observed some positive changes across the industry. From my perspective, the positive impact we observed in the presence of OSPOs and visible leadership was one of the most important results. We've long known that leadership makes a difference, but with this survey, we have been able to quantify that difference."
Scott Logic has always been an advocate of open source in finance, demonstrated through the company's longstanding membership of FINOS, our collaborations on projects like Perspective, and our contributions to the community, including D3FC, OpenFin React Hooks and DataHelix. In partnership with FINOS, we also organise Open Source Meetup groups in Edinburgh, London, Bristol and Leeds to foster and grow the open source community in the financial services sector and beyond.
As a consultancy working with global brands in financial services, we have a long history of supporting organisations to adopt open source software and standards. Galvanised by the results of this survey, we will continue to play our part in supporting financial clients to shape policies, processes and governance that enable them to unlock the full benefits of open source in terms of efficiency and innovation.
You can read the FINOS press release here and download a copy of the report here.
Results summary: Open Source in Financial Services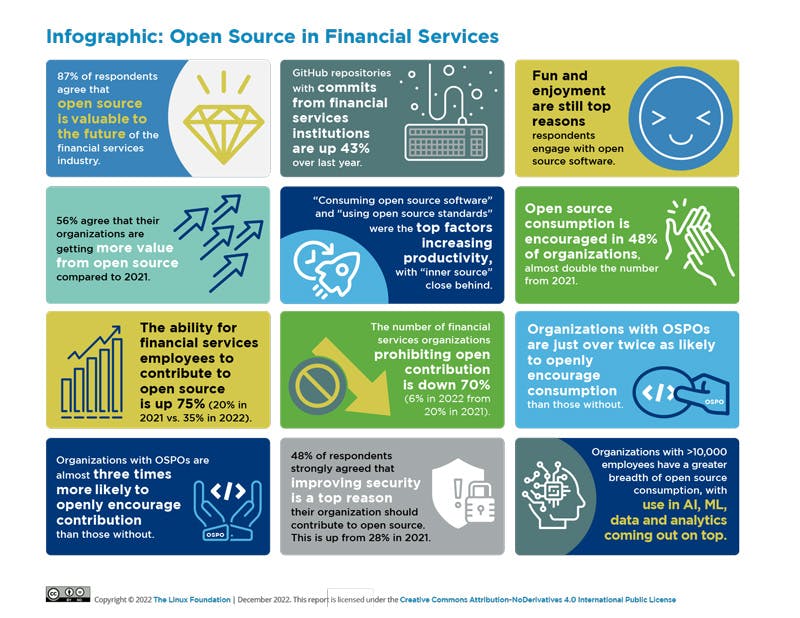 Copyright © 2022 The Linux Foundation| December 2022. This report is licensed under the Creative Commons Attribution-NoDerivatives 4.0 International Public License.